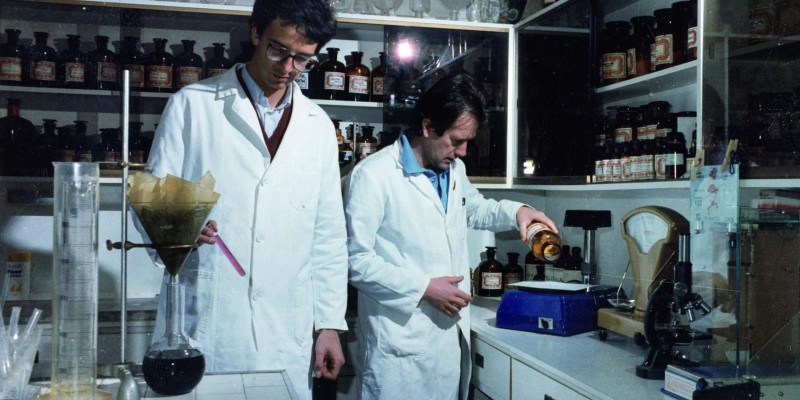 People, passion and research are the cornerstones of our history
This is a unique and unrepeatable Italian entrepreneurship story.
It is the story of a friendship, an intuition and a group of pharmacists who decided to devote their lives to turning their noble profession into a community.
And the result is 40 years of cosmetic, dermatological, nutraceutical and make-up products which are effective, safe and affordable.
2023
2022
2021
2020
2019
2018
2017
2016
2015
2014
2013
2012
2011
2005
1997
1994
1984
1982
2023
First Consolidated Sustainability Report
The first Consolidated Sustainability Report is published, illustrating the performance of all the companies in the Unifarco Group
Production of food supplements
Production of food supplements has begun in Villorba (Treviso)
2022
Unifarco celebrates its 40th anniversary.
2021
Benefit corporation
Unifarco introduces the status of benefit corporation in its corporate purpose, formalising its commitment to addressing common needs.
Beginning of partnership
With the Department of Sport and Computing at the University of Seville
Patents
P4-SIV®, LARIXICINA®
*patent filed
Sustainability
Packaging Oscar and Worldstar Global Packaging Award
2020
Patents
Progetto ACNE Progetto BUTIRRATO®*, BERRY DEFENCE®, IALUDEEP®
*patent filed
2019
Beginning of partnership
With the Department of Surgical, Oncological and Gastroenterological Sciences at the University of Padua
Patents
ECHINOSHIELD®*
*patent filed
Sustainability
100% certified electricity from renewable sources
2018
Sustainability
Conservation of the Seravella rose garden and the Narcissus Meadows project
2017
Beginning of partnership
With the Department of Pharmaceutical Science at La Sapienza University in Rome
Certification
EPD® process certification for We Love the Ocean sunscreens
2016
Beginning of partnership
With the Pharmacy Department of the University of Naples
Certification
First EPD® product certification
2015
Beginning of partnership
With the Department of Pharmaceutical Science at the University of Marseilles
Experimental Garden and Foundation
Inauguration of the Unifarco Experimental Garden and establishment of Fondazione Unifarco
2014
Acquisition
Unifarco acquires Nurapharm SL, its Spanish distributor, which later becomes Unifarco SL
Patents
MICROPALMID®, ISOPALMIDE®, CSU®
2013
Beginning of partnership
With the Institute of Advanced Chemistry (CSIC) at the University of Barcelona
2011
First European branch
Unifarco opens its first foreign branch in Germany. Unifarco Deutschland Gmbh is created
Beginning of partnership
With the Department of Physical Chemistry at the University of Milan
Patents
MICROCERAMID®, CALENDULA ALPIDIOLO®
2005
Unifarco becomes a public limited company
Open to pharmacists, who play an active role in defining corporate strategy
Ikonda Project
The Ikonda project is launched in Tanzania (concluded in 2019)
1997
Adoption of ISO9001 and ISO14000 guidelines
1994
Unifarco Srl is established
Pharmacists Luigi Corvi, currently Vice President - Sales & Marketing, and Gianni Baratto, Vice President - Scientific Area join the company, boosting its professional reputation
1984
Wamba Project
Beginning of the Wamba project in Kenya (concluded in 2005)
1982
It all started here
Ernesto Riva, pharmacist and President of the company, and Massimo Slaviero, CEO, set up Dolomiti Cosmesi and begin producing a range of natural cosmetics for pharmacies which are sold under the name of the individual pharmacy.
Beginning of partnership
With the School of Specialisation in Cosmetic Science and Technology at the University of Ferrara
40 years of history, 20 patents, countless satisfactions
2021


P4-SIV®*, LARIXICINA®*
2020


Progetto ACNE, Progetto BUTIRRATO®*, BERRY DEFENCE®*, IALUDEEP®*
2014


MICROPALMID®, ISOPALMIDE®, CSU®
2011


MICROCERAMID®, CALENDULA ALPIDIOLO®