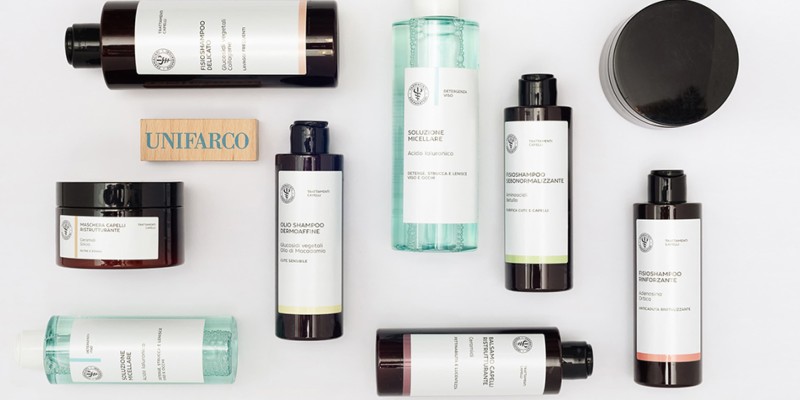 How we make our products
If there is one word that describes how we make our products, this is Eco-design.
Every Unifarco product is conceived, studied and manufactured in a highly sustainable way and is assessed according to the principle of Life Cycle Assessment (LCA), i.e. the analytical and systematic methodology that evaluates the environmental footprint of a product, throughout its entire life cycle.
Because we want to reduce our environmental footprint as much possible.
FORMULATION

We have developed an innovative in-house software package which evaluates over ten different parameters to identify the best combination of raw materials for each of our formulas in order to generate the least environmental impact (CO2 eq.) while maintaining the same quality.

PACKAGING

We have always limited the use of secondary packaging and recently introduced recycled plastic bottles to some of our ranges.

Over 60% of our packaging is produced by factories located near our headquarters to cut CO2 emissions during transportation.

PACKING MATERIALS

We use eco-friendly packaging solutions: FSC-certified honeycomb paper, cardboard pulp containers and 100% compostable bubble wrap. In this way we avoid introducing 16.4 tons of plastic a year into the environment.

LOGISTICS

We have merged three of our external warehouses into a single logistics hub located in Paludi (BL). We use local transport providers for more than 50% of our needs.

REUSE

We were the first company to introduce a refill system for cosmetics in pharmacies. In the Pharmacist Formulators Premium range of face products, only the recyclable plastic pod inside is thrown away, while the outer jar, which is also recyclable, is reused for the new refill pod.